inspired by a true story that happened at Christmas 1979 when I was at a church seminary. The sketch drawing is my own, done not long after the event.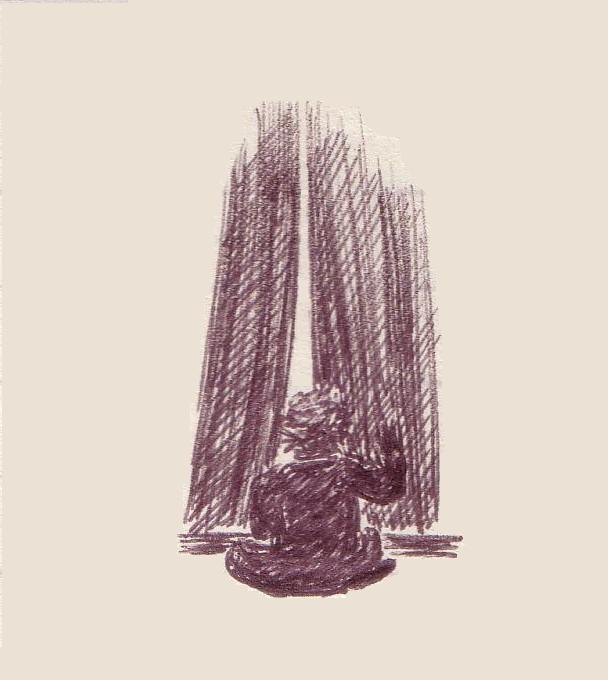 Outside looking in, the boozy beggar sat,
Known to us all: friendly, if a twat.
At times his company could be hell,
But who can talk, truth to tell?
An alkie, he made no bones.
Tough Glasgow childhood. Homes
Where brain damage was daily meted
By the fist as adults overheated.
And 'home' today? A garden shed,
Which, grace and favour, nuns provided.
But then we are all, here, good folk,
Doing our bit for a difficult bloke.
Wellmeaning religious types – amen.
In earnest training to conquer sin.
To convert the whole world, very soon;
And maybe ourselves – shock, horror, swoon.
Tonight, the college Christmas ball,
And Willy has no invite at all.
Yet peering through a curtain gap,
Our man on frozen turf is sat.
He beams – jigging to the beat;
And no one spies his lonely seat.
Love, joy, peace, in the Trinity;
This 'reject' shames us with his glee.
The experts fail, or perhaps unhinge,
A chap who takes a monthly binge.
Our task: to love him as he is;
Our gift: a wiser prejudice.
But surely here there's something more,
Than a lonely tramp denied the door?
The key to our hearts, shackled by sin;
It's God who waits, outside looking in.