This short poem was inspired by a story told by Fr Anthony de Mello SJ
The old man propped up on his pillows,
Has been bed-ridden for many years.
At first it was agony and blazing anger,
Depression, frustration, red hot tears.
An active life cut short in cruel fashion,
Confined to the cell of his hospital room.
No clever aids to expand his tiny world;
Condemned to such a suffocating tomb.
And yet today, he sits at peace, serene:
Smiling warmly at friends and carers.
A vision of joyful, dear-bought wisdom –
An inspiration even – with plenty admirers.
This crippled man has a special power;
He makes no secret and will gladly share:
He is a praying soul, communing with God –
His power and technique – the empty chair!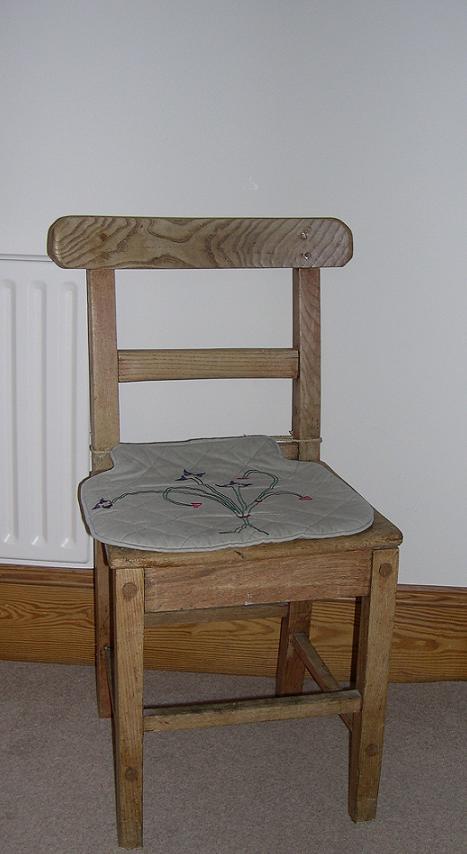 A simple chair is placed across the room.
And drawing upon imagination's feat:
When he is alone as often times he is,
He invites friend Jesus to take the seat.
He smiles at Jesus who looks fondly back;
Each wrapped in the other's warm gaze.
No fancy, intrusive words are needed.
Both happy to go on and on for days.
"He smiles at me, and I smile at Him!"
Words, books and beads are relegated.
Two lovers enjoying mutual affection;
Spirit grace tangible and celebrated.
Prayer doesn't come any simpler or
Powerful as life enhancing medicine.
Some may scoff but others will agree:
By their fruits you will discern them…
The empty chair has power to transform
All who would risk the time to spend,
Gazing at the One who died and rose;
Seeing in His eyes their truest friend.
Dare we realise the grace on offer?
Or is the real issue within our heart,
That our busy lives are too unconfined
To be crippled enough to make a start?